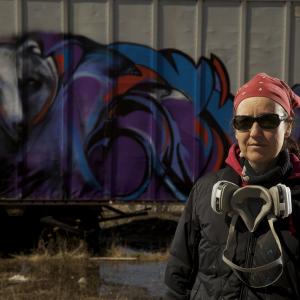 Sharon Hunter
Artist member since 2019
Pro
Bruce Mines, Ontario
Sharon Hunter Artist Bio
I am an artist of mixed Indigenous and settler heritage. My paintings explore the notion of 'Land' in physical, philosophical and historical contexts. My work in educational, community-engaged and film/theatre settings informs and reflects my studio practice.
Indigenous land knowledge is very important to me. I sit with Indigenous Elders, knowledge-keepers and community members. They share stories, teachings and images about the land, giving me permission to respectfully explore them in my work.
I am also interested in the settler experience of land – meaning, relationship and control of nature. I live and work in a rural Northern Ontario community, settled around the railroad, farming and industry. Here, as in many other settled places in Canada, it feels like Indigenous land knowledge is overshadowed and hidden by colonialism.
My recent work has visually represented the tension between natural systems and human-imposed structure. Blue City Wolf exemplifies this work: a wolf, penned in by layered, painted lines, is held captive. Here, the concept of 'taming wilderness' through constructed space – like that of a city - is evident.
Past work, such as Parallel Route - a three-year Highway 17 mural project – has explored imagery reflective of the histories and stories of the Algoma area where they are located, offering visual food for thought for passers-by. Mississaugi River, one of the murals, exemplifies their typical context, scale and placement.
My current project, 'Land; Relations', is supported by a Chalmers Fellowship. This is a multi-faceted project with an immersive research component through which I've been investigating colonial conventions of landscape art (and their impact on Canadian artistic identity) as well as local and regional Indigenous teachings and stories relating to the Land.
---
Describe your home in 3 words
peaceful, silent, stars
Everyone should know about
be kind-do good things in the world
Favourite book
Marrow Thieves
Beverage of choice
espresso
Favourite musical artist / band right now
Neil Young
What places do you hang out in Toronto?
kensington market
What do you mean, "try"?
Try-before-you-buy with a 3 month rental. 100% of your rental payments go towards the purchase (interest free). Message the artist directly, and start the conversation.
---
Art made (truly) affordable
We make it easy for you to try art with smart payment plans and try-before-you-buy models.
See How It Works
---
You're covered.
Artwork protection is included on all art rentals up to $10K. Our Customer Care team is always here to help.
Contact Us
---
Unlock Trade Access
For industries including interior design, film/TV production, & real estate staging: rent original pieces that fit with your project vision, budget and timeline.
Apply for Trade Access
---
1% from every transaction goes towards a Canadian arts nonprofit.